Ram Trucks for Sale Near Alaska
Ram trucks are some of the most powerful and durable pickup trucks on the market. From the classic Ram 1500 to the heavy-duty Ram 3500 HD, a Ram truck has the power you need to haul your heaviest cargo without breaking a sweat. Get behind the wheel of any of our Ram truck models at Dave Smith Motors when you set up a test drive at our dealership.
Jeeps SUVs & Gladiator for Sale Near Oregon
If you're someone who loves to take the path less traveled, then a Jeep SUV is an excellent choice for you. The Jeep Gladiator brings everything you love about a standard Jeep SUV but with a truck bed and outstanding exterior design among other features. Whether you're looking for an adventurer like the Jeep Wrangler, an explorer like the Jeep Renegade, or a hardworking truck like the Jeep Gladiator, you'll find a Jeep that will have everything needed for your next off-road expedition.
Dodge & Chrysler Vehicles for Sale Near Montana
If you want something with high-speed capabilities, then consider the Dodge Charger or Dodge Challenger from our inventory. Need something more compact and fuel-efficient for your daily commute? How about the Chrysler Pacifica? No matter what your driving needs are, there's a Dodge or Chrysler vehicle in our inventory that has all of the features and capabilities needed to take your drives to the next level.
Finance Your Vehicle & Value Your Trade Near Washington
Value your trade before you buy one of our new Chrysler, Dodge, Jeep, or Ram vehicles at Dave Smith Motors. This way, you'll get an idea of what your current vehicle is worth. Once you find out how much your current car is worth, drop it off at our dealership to get a same-day cash offer. Our trade-in process is super simple and gets you a great deal. Apply for financing to speed up the buying process and get approved for your new car.
Why Buy from Dave Smith Motors in Kellogg, ID?
We're one of the highest-ranking dealerships in the area for customer satisfaction, and it's easy to see why when you shop at our dealership. Our exclusive Mopar shops can help you find what you need when you need it for those DIY weekend projects. When you shop at Dave Smith Motors, our vehicles are already priced at the best value, so you don't have to wonder if you're getting the best deal.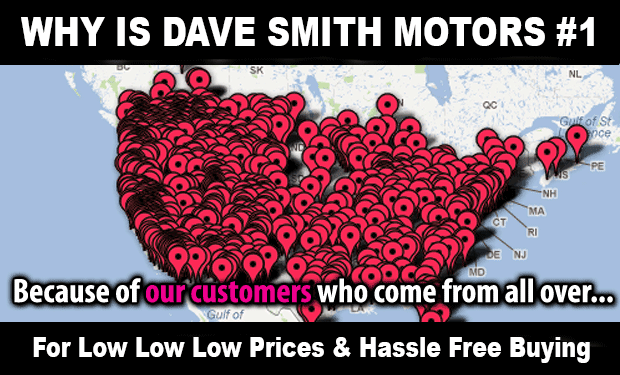 Thousands of customers choose Dave Smith Motors
Call 1-800-635-8000 to find out why!
Schedule a Test Drive at Dave Smith Motors in the Pacific Northwest
Contact us to set up a test drive at our dealership and find a Chrysler, Dodge, Jeep, or Ram vehicle that you'll love.