Protect Your Truck With Bed Liner
A truck bed liner is one of the best investments you can make in your truck. Turbo-Liner is a spray-on bed liner that provides a solid barrier of watertight protection from the elements, rust, and chemicals. Turbo-Liner also protects against dents. It's not just for truck beds. We also apply Turbo-Liner to truck fenders, bumpers, rocker panels, truck covers and more. 
Turbo Liner is applied in a uniform manner which allows you to get a nice even coating on every surface. Turbo Liner is one of the nicest looking and toughest liners on the market today. And it isn't just for pickup beds.  Turbo Liner can be applied on virtually any surface whether it be a truck bed, wheel flares, rocker panels or more. With Turbo Liner from Dave Smith Motors you will have a durable coating and a factory appearance on any surface. 
Possible Problems with Drop-In Liners
With plastic drop in pickup bed liners, dirt and water can get underneath the liner and result in rust and corrosion and also cause noise while driving.  By permanently adhering to any surface, Turbo Liner prevents rust and corrosion without bolts or air gaps, and it gives a quieter ride.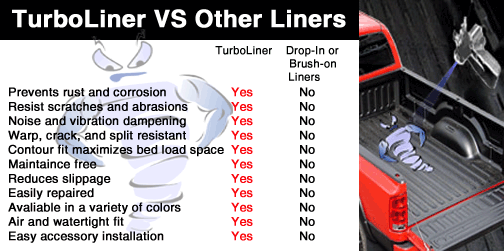 Possible Problems with Polyurethane Liners
Polyurethane liners are sprayed in many different ways, but one thing holds true about almost all of them they dry slow. What happens when spraying Polyurethane is you end up with a thicker coating in the valleys and a thin coating on the peeks of the bed. The other thing about Polyurethanes is that most of them have a really rough and chunky texture that short of looking bad the texture has no other function. Color holdout is another issue. Most companies don't use much UV protection in their materials, which causes them to chalk and fade out almost immediately.
Because polyurethanes have such slow dry times the material can run down or sag, pooling up in the low spots leaving the material thin on the main or high spots of the bed surfaces.
With a Turbo Liner this is not an issue. The Polyurea application process of Turbo Liner applies the material in an even coat across all surfaces and dries in seconds.

Call 1-800-635-8000 and let our Experts help 
Customize & Personalize your next vehicle.